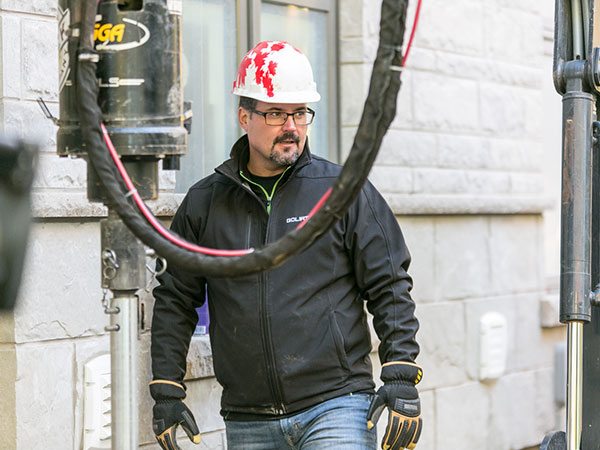 Helical Screw Piles – What are they and what do they do?
First I would like to say that although in the residential space helical screw piles are seemingly new, helical piles have actually been around since the early 1800's and are used globally. The technology behind this type of foundation is well documented and is consistently reliable. On the basic end of the spectrum, consider a helical screw pile as a replacement for using a traditional sonotube form and poured concrete foundation. Resembling a large metal screw, helical piles are screwed into the ground by certified installers to required torque specifications.
GoliathTech Helical Screw Piles, are used for deep foundation support. They are manufactured in a wide variety of sizes and capacities for compression loading as well as tension loading. They consist of a round hollow tubular section of pipe as the lead section of pile shaft that is welded to a helical plate near the bottom of the pipe. Screw piles can be manufactured with a single, double or triple helix attached to the pipe shaft, depending on soil conditions and loading required. Helical piles are used to support everything from light residential decks, bridges, solar fields, signs, home additions up to multi-story commercial buildings requiring from 500 lbs to 175000 lbs of load per pile. Helical pile applications are endless.
GoliathTech helical screw piles have numerous advantages:
They do not heave due to frost (if properly installed)
They install quickly
ACQ approved for use with treated lumber
There is no soil displacement and therefore no soil to clean up
No waiting for concrete to cure and can start building immediately after installation.
Very high load capacities
More accurate load capacities over using concrete
Superior to concrete
Can be installed all year round without issue
They are economical
Can be installed using small equipment
Minimal environmental impact to root systems etc…

Todd Mounsey is the founder of Your Deck Company with over 30 years as an industry leading deck specialist, TV personality, award winning designer and published author. Todd enjoys learning from the past and using his experience and knowledge to create better, longer lasting, eco-friendly outdoor projects.

Behind the scenes, he is also a technical advisor to the construction industry. Todd has been hired by companies such as Home Depot to teach their staff about deck construction. Also having direct relationships with the chemical suppliers and pressure treating manufacturers. Todd has a deep understanding of the issues surrounding the use of ACQ and CA treated lumber. Because of this knowledge, he was also a technical advisor to NADRA regarding the issues of corrosion caused by ACQ treated lumber and the effects on the decking industry.

Outside of that, Todd is also a certified installer of helical screw piles. He has been trained and certified by two different screw pile manufacturers. He is often called upon to educate different municipalities, contractors, architects and engineers. Educating them on the proper use, installation, and building codes surrounding helical screw piles.

Latest posts by Todd Mounsey (see all)