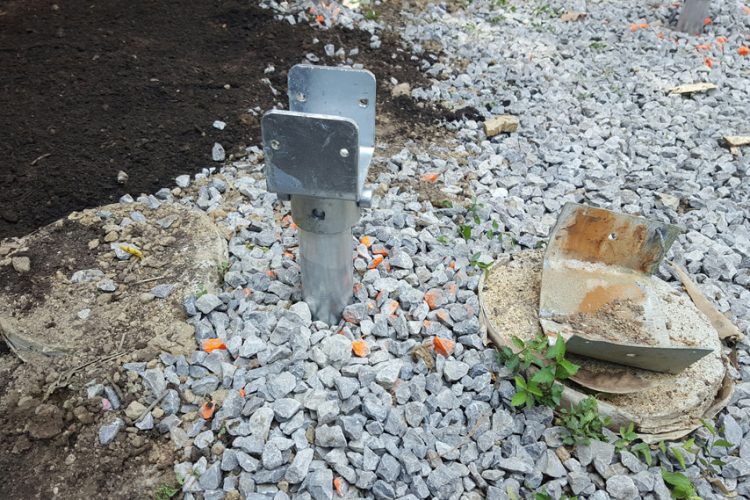 Concrete Foundations for Decks?
Ever since I started constructing decks in the mid 1980's, concrete was the recommended foundation for decks. This tradition of using concrete for deck foundations is still alive and doing well today. However is it still the best foundation choice for a deck today? Or are GoliathTech helical screw piles the better choice?
For decades, I installed concrete foundations for our decks. I cannot begin to describe the amount of concrete I have poured, mixed and cleaned up. However, that being said, we were having the occasional issue with concrete. The issues with concrete were not often and were actually pretty rare. However, once in a while we did have the occasional deck that would heave due to frost. We were presumably doing everything right. Drilling down past the required 4 feet of depth and adding rebar to our concrete. Additionally we were belling out the bottom of the foundations and using a minimum 3500 PSI concrete. Yet we were still faced with the occasional deck that would move due to frost.  The projects we work on are not your typical 10×10 pressure treated decks, our projects and the clients we work for demand the best available products, so I wanted a solution.
The Solution:
It was time to look for an alternative to concrete. Quickly I came to realize that Helical Screw piles could provide us with the solution we were looking for. Now, which helical screw pile manufacturer do we partner with? I carefully looked at, tested and compared each helical pile manufacturer that I could find. When I looked closely, the differences between manufacturers are quite interesting and some differences were quite alarming.
Although there were some significant quality differences between pile manufacturers. I did conclude that the inherent design helical screw piles is a far more reliable than using traditional concrete foundations. Helical foundations have been around since the early 1800's so the technology behind them is certainly not new. However, what is new, is that the piles today have been scaled down in size to be more affordable the light residential market. Needless to say, after carefully considering the pros and cons of concrete vs screw piles. After thoroughly researching and testing different screw piles, the choice was clear. GoliathTech helical screw piles are the stand alone choice for quality and selection. I also was able to conclude that GoliathTech helical screw piles are the more reliable and stand out choice for today's deck foundations over using traditional concrete.
The Results:
In Conclusion, since we started using GoliathTech Helical Screw Piles. We have not had a single instance of any foundation movement up or down. Additionally at Your Deck Company, due to increased productivity, we have been able to reduce the overall cost to our clients for the decks we construct. Today, at Your Deck Company, we only use GoliathTech helical screw piles for all of the projects we create.
Concrete
Requires a foundation inspection prior to pouring concrete and can often times delay the project especially if there has been a lot of rain. (cannot pour concrete if there is water in the hole)

Messy and time consuming

Often times is much more expensive than using helical piles. This holds true for almost all installations except for decks. For decks, screw piles can sometimes be more expensive.

Can often heave due to frost

Can also sink due to the weight of some of the larger foundations

Don't know the quality or load bearing capacity of the soil at the bottom of the concrete foundation, only requirement is to go down 4ft deep.

Need to clean up and get rid of the excess soils removed from the hole during excavation

Need to wait for the concrete to cure in order to start construction

Cannot generally be installed during the rain or winter conditions

Can be damaging to root systems
GoliathTech Helical Screw Piles
No need to wait around for an inspector, we supply a conformity report after installation, (conformity report is supplied if a permit is obtained or we have supplied engineered drawings). Otherwise we always provide the client with a pile installation log.

G-185 Hot Dipped Galvanized ACQ approved for use with Pressure Treated lumber.

No frost heave.

No sinking.

Proper and accurate load bearing capacity each and every time due to the specifics of the digital torque monitoring during installation.

No soils to clean up after installation.

CCMC approved with a Ministers ruling.

Fast installation.

Ready to start building on immediately.

Generally less expensive than concrete for most applications. (certain deck applications can be more expensive than concrete).

Removable.

Latest posts by Todd Mounsey
(see all)